On April 29th, 2018, the agreement signing ceremony about Restructuring and Managing 5-star Edensee Dalat Lake Resort & Spa, by and between UHM Group and the Owners from Edensee Dalat Lake Resort & Spa was successfully held at the meeting hall of this classy and luxurious resort.
The meeting honorably received the presence of: From UHM Group - Mr. Nguyen Huu An - Chairman; Mr. Pham Minh Tam, Vice General Director;  Mr. Bui Xuan Khanh, Director of Project development; Mr. Son Dinh Phi Hung, Director of Security; Mr. Vo Duy Phuong, Vice Director of Front Office… On the Dalat Edensee Resort side, the ceremony got the attendance of Mr & Mrs. Tieu Nhu Phuong, Owner of 5-star Edensee Dalat Lake Resort & Spa Project.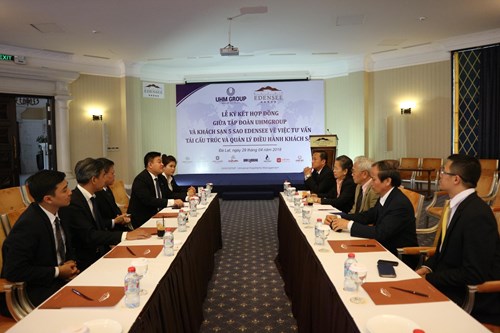 The ceremony took place in the solemn air but intimate between the two sides. At the meeting, Mr. Nguyen Huu An and Mr. Tieu Nhu Phuong has signed the contract in which the 5-star Edensee Dalat Lake Resort & Spa will be operated, managed and restructured by UHM Group from the date the contract was signed, April 29st,2018.
5-star Edensee Dalat Lake Resort & Spa was constructed like a complex area with numerous villas and buildings. The resort has scale of nearly 120 bedrooms  and other utilizing space such as: Gourmet Restaurants, Eden Lake Cafe, Meeting Rooms, VIP Club, Gym & Spa, Tennis Courts and many outdoor activities' sphere… The exquisite and elegant French architecture combined with poetic and mysterious nature of Tuyen Lam lake and green pine forest paint an appearance full of romance and distinctiveness for Edensee Resort.
Along with the skillful and knowledgeable international experts and the profound experience in managing and operating in hospitality, resort industry… UHM Group is expected to be a righteous choice; contribute to the development and reinforcement of Edensee Dalat Lake Resort & Spa, empower and promote Edensee Resort' s image as well as Dalat City's tourism prospect in the strongly growing but full of competing and challenging age.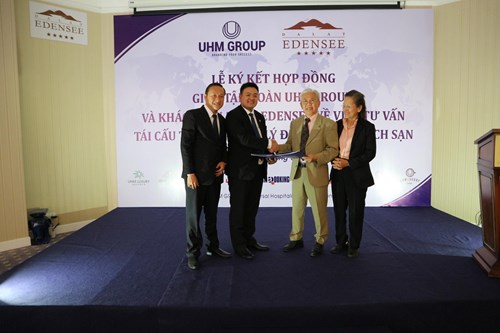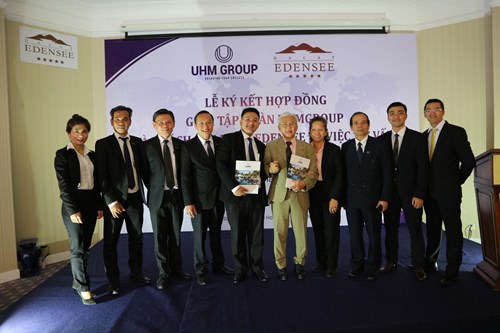 At the end of the meeting, the representatives, delegates of UHM Group and Da Lat Edensee Lake Resort & Spa stepped on the podium for handshaking and picture taking to mark the collaboration.
Some moments in the last meeting: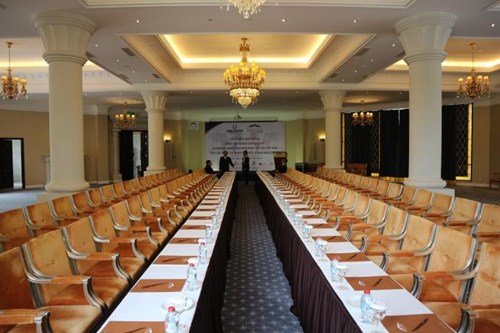 The view at the auditorium before the ceremony.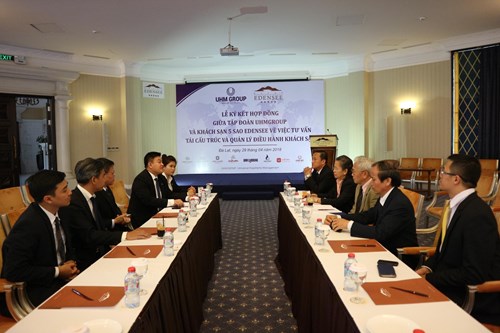 Representatives of the two sides were fully presented and started the meeting.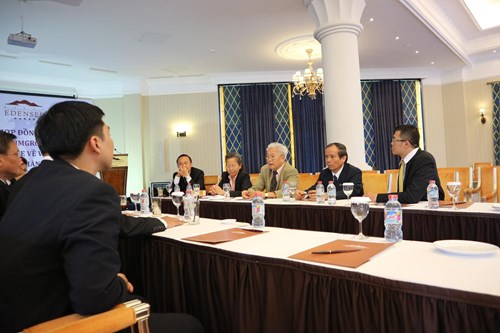 Mr. Tieu Nhu Phuong - Owner of Edensee Project was speaking at the ceremony.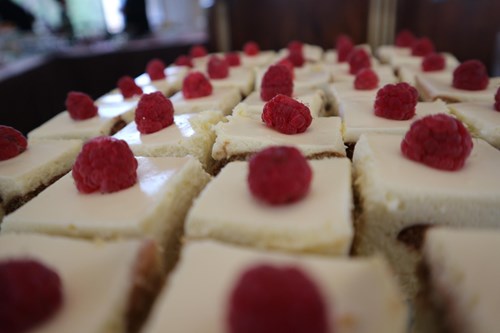 The nice dessert at the ceremony.